Jelly Creatures or Shapes
Jewelies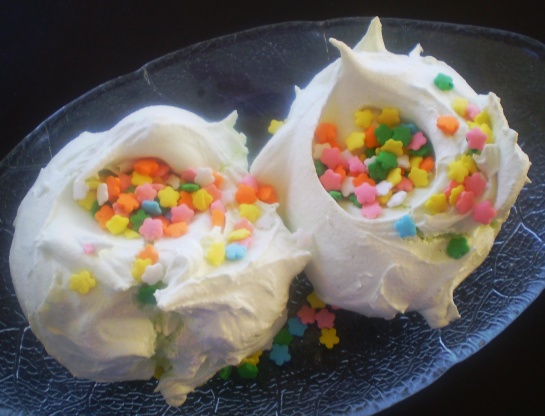 These are fun and especially fun for kids birthdays. I shaped mine into baskets and filled them with a few lollies but the original recipe shapes them into 'creatures'! Spiders, dinosaurs, snakes! Today I used lime but any colour or flavour jelly would work perfectly. The secret is to add the sugar/jelly crystals slowly. Take your time and don't rush. Yield is just approximate. It depends on how large you make your creation! An Australian cup is 250ml.
Preheat oven to 100°C.
Combine egg whites and salt in a large, clean bowl.
Beat or whisk until firm peaks form.
Mix the jelly crystals and caster sugar together and with the mixer still running slowly add the sugar mix to the egg whites. A tablespoon at a time making sure the sugar dissolves.
Spoon the mixture into a piping bag with a star nozzle, and pipe "creature" shapes onto an oven tray lined with bake paper.
Or with a couple of large soup spoons scoop your mix into 2-3 inch circle. Hollow out the centres to leave room to fit a couple of lollies later once cooked.
Bake for 1 1/2 hours, then remove from the oven and cool.
Add lollies or any decorations. Eyes etc for creatures.