Jelly-Centered Sugar Cookies
J-Lynn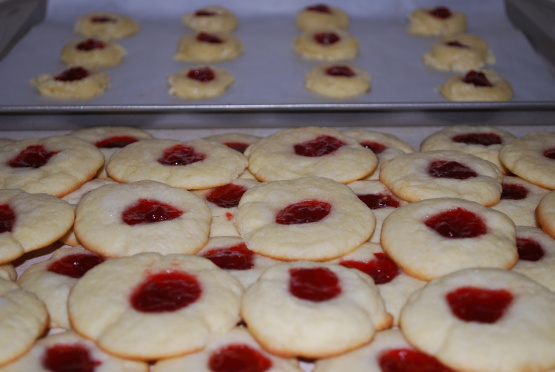 Sugar cookies are pretty good by themselves, but the jelly or jam in this recipe really kicks them up to the next level. From the New England chapter of the United States Regional Cookbook, Culinary Arts Institute of Chicago, 1947.

Top Review by J-Lynn
This is a delicious sugar cookie; plain on its own but great with jelly. I got 5 dozen made as follows: I used my small 1.25 inch cookie scoop, then flattened the balls slightly with my palm. Using the back of a nicely round 1/2 teaspoon, I pressed a well into the center of each cookie. (Dipped the teaspoon into sugar each time to prevent sticking.) Then I scooped 1/4 tsp. of strawberry jelly into each dip. Baked for 10 minutes and they are great. *DEFINITELY refrigerate the dough overnight- then it isn't so sticky and the baking cookies don't spread out so much. The end result is a slightly sweet, thick cookie that is lovely on my Christmas plates! Thanks for sharing, Molly!
Sift first three ingredients together.
Cream butter and sugar together until fluffy' add eggs, milk and lemon juice.
Blend well and add flour mixture; mix until fully incorporated.
Chill.
Preheat oven to 350F and lightly grease cookie sheets.
Place half the dough on a well-floured board and roll to 1/8" thickness.
Cut with a 2" round cookie cutter and place on prepared cookie sheet.
Place a teaspoonful of jelly or jam in the center of each cookie.
Roll remaining dough to the same thickness and cut with the same cookie cutter.
Place a layer of dough over each jelly filled cookie and press the edges of the cookie with a fork to seal in the jelly.
Sprinkle lightly with sugar and bake for about 15 minutes or until golden.