Another oldie but goodie from the "Peter Pan" marriage. Great recipe, bad marriage. I clipped this out of a magazine in 1968 still good and easy, rich and gooey.
Directions
Preheat oven to 375 degrees.
In a large bowl mix pudding mix and corn syrup.
Gradually add evaporated milk and egg until well blended.
Add pecans and pour into pie shell.
Bake until top of pie is firm and just starting to crack, about 40 minutes.
Cool at least 3 hours.
Most Helpful
This is what I bake for my wife's family. They now request it for every get together.
Making it for 40 years and its still good!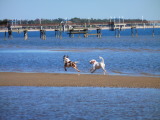 Love this one here !!