hepcat1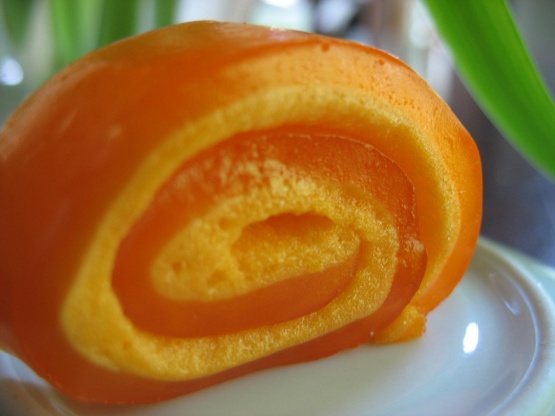 This is a fun and different way to make jello for the kids.

i used sugar free jello and it worked just fine. only took about 30mins to set, sprayed the pan w/ pam and i folded the first bit and held it there a few seconds for it to stick. then they rolled right up and didn't stick to the dish at all. i only cut it into 6 pieces, 12 seemed a bit small. the kids are excited for desert now, maybe they'll actually eat their dinner w/o me having to fuss at them! i'll probably 2x or 3x the recipe next time. maybe the sugar free doesn't make quite as much? doesn't matter though, i refuse to give my kids all that extra sugar.
Lightly spray an 8 or 9 inch square pan with cooking spray.
Mix gelatin and water in 1 1/2-2 qt microwavable bowl.
Cook on high 1 1/2 minutes.
Stir to dissolve completely.
Add marshmallows to gelatin.
Microwave one minute or until marshmallows are almost melted.
Stir until completely melted and mixture is smooth (creamy layer will float to top).
Pour into prepared pan.
Refrigerate 45 minutes or until set.
Loosen edges with knife dipped in warm water.
Starting at one end, roll up tightly.
With seam side down, cut into 10-12 1/2 inch slices.
Serve immediately or refrigerate until ready to serve.