didyb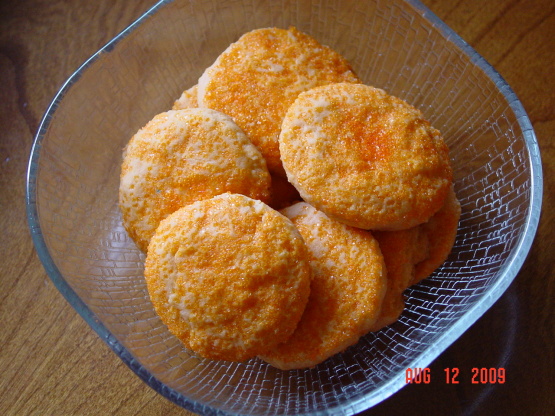 My daughter loves making these cookies because she can make different flavors and colors. At Christmas we make raspberry & lime which turn out red & green.

I really didn't know what to expect since no one really described the taste or texture of the cookies. They are like little cakey sugar drop cookies that taste fruity. I used berry jello and I rolled the walnut-size balls in powdered sugar before baking. I'm not sure why but I had to bake them for more like 15-17 minutes, not 6 - 8 like the recipe says. This would be even better if you could figure out somehow to make them a little more tart. Like lemon jello with lemon peel maybe? I'll try that next time. A yummy, soft, sweet cookie. Oh - and as everyone else mentioned, the color is nice and vibrant, too.
Cream margarine, sugar, jello and eggs together in a medium to large bowl.
Add the rest of the ingredients.
Mix well.
Roll dough into little balls and place on a greased and floured cookie sheet.
Flatten each with a fork.
(Sometimes a little flour on the fork keeps it from sticking).
Bake 6-8 minutes at 350 degrees.