Jelled Strawberry Topping for Cheesecake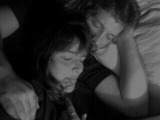 This topping is a luscious congealed coating over a layer of fresh stand-up strawberries.
Directions
Rinse strawberries under cool water and let drain on paper towels, with paper towels over top of them also.
In medium saucepan, combine sugar and cornstarch, add water and cook over medium heat until thick and clear.
Add strawberry gelatin and stir to dissolve. Set aside to cool down.
Meanwhile, cut tops off the strawberries and place cut side down onto cheesecake THAT IS STILL IN THE SPRINGFORM PAN. Start in center and spiral out to edges. (Note: If you have a store bought cheesecake, you can carefully wrap parchment paper then plastic wrap around it to create a 'wall' above the cheesecake to hold the gel in til firmed up).
When gelatin has cooled to almost room temperature, gently pour it over the strawberries, being sure to cover the entire top of strawberries and cake. Place in the fridge for a minimum of 4 hours.
Loosen cake with a knife between the cake and the pan. unlock the pan (or carefully peel off the plastic wrap and parchment paper).
Reviews
Most Helpful
Easy, wonderful and looks tremendously impressive. Loved it. MAde with your cheesecake for my son's birthday it is a complete winner. If you are reading this review and don't try this, you will be missing out! Yummmmmm! Thanks.
4.5 stars, due to personal preference for a less jelled topping, however, I believe that coating every strawberry and the entire cheesecake top helped to preserve the strawberries longer than would have been possible otherwise with more exposure to air. DH loved this just the way it was. My strawberries ranged from medium to large, and I would have had better coverage with smaller strawberries (I would avoid jumbo warehouse-club strawberries). The jelled topping is less messy than an oozing topping, making it a good choice for potlucks, and it stored well in the refrigerator. I used this on top of 2Bleu's Absolutely the Best New York Cheesecake (Gluten-Free) #244193 as recommended by the chef. Thank you for sharing this recipe, 2Bleu! Made for Please Review My Recipe.

I used Inge 1505's recipe for German Fruit Cake Bottom topping with pudding, strawberries and your glaze making an absolutely beautiful and festive presentation. For its simplicity this is pure genious.