Gin35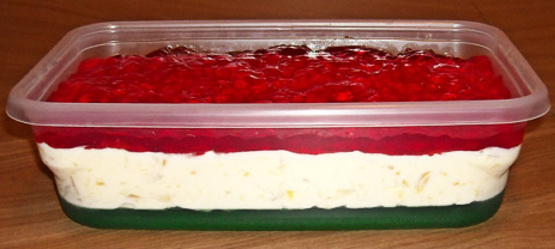 This is the original Jell-O Ribbon Salad, as published in the Joys of Jell-O recipe book that my mom has had--probably since the 1950's. The holidays & other special occasions just wouldn't be the same without this dish on the table!
Dissolve gelatin flavors separately, using 1 C boiling water for each.
Stir marshmallows into lemon gelatin; set aside.
Add 3/4C cold water to lime gelatin; pour into a 13x9x2 pan.
Chill until set, but not firm.
Add 3/4C cold water to raspberry gelatin; set aside at room temperature.
Add cream cheese to lemon/marshmallow mixture; beat until blended.
Chill until slightly thickened.
Then blend in mayonnaise, whipped cream& crushed pineapple.
Chill until very thick; spoon gently over lime gelatin.
Chill until set, but not firm.
Meanwhile, chill raspberry gelatin until thickened; pour over lemon gelatin.
Chill until firm.
To serve, cut into squares.
*Note:if deeper green& red layers are desired, use 6oz packages of lime& raspberry gelatins, 2C boiling water and 1-1/2C cold water for each large package.