Jean's Canned Brunswick Stew
7donna3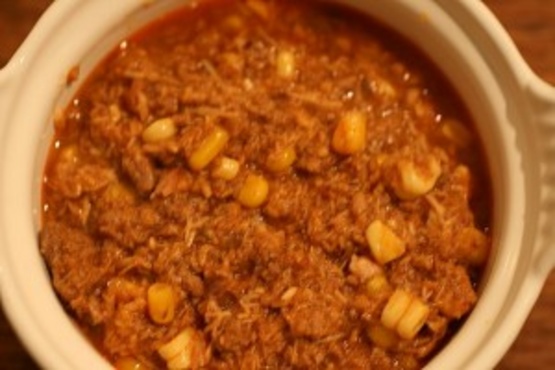 This recipe comes from Jean, a friend of mine at work. This is the absolute best brunswick stew I have ever had, she had a hard time convincing me this was made from all canned ingredients. This is a must try recipe!!!

Wow! I have tried a lot of recipes from this site but THIS is the one that my family raved about after the first bite! The original recipe as is I have no doubt would be good but I followed another review and made some additions- 3 (15 oz) cans of diced tomatoes, 1 can whole kernel corn, 1 can creamed corn, 1 can chicken, 3 cans barbecue pork, 1 can barbecue beef, 1 can limas, 1 cup ketchup, 1 T lemon juice, 1 T Worcestershire. Outstanding stew. I put it in the crockpot for four hours on low. This is the easiest stew to make and it is a lot of taste for very little work!
Open all the cans.
Empty them, including the juice, into a large stock pot.
Cook over medium heat for at least one hour.
Hint: Some of my other co-workers add 1 extra can of the barbecue pork and/or 1 sauteed onion.
Enjoy!