Jeannes's Baked Sausage With Peppers & Potatoes
abchef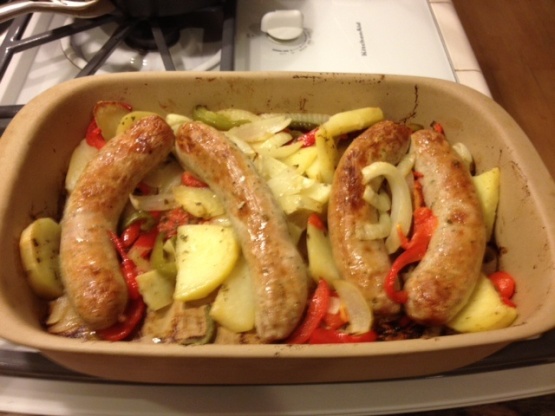 Great dish for a party, or easy meal for the family. About 20 years ago I came up with recipe while we working at our hot dog stand. Then we were catering and this was requested often. Have french bread handy, some people will make a sandwich. Make sure to pierce the sausage, the juices add such good flavor to the potatoes and veggies. And then just enjoy.
Slice potatoes and onions.
Cut peppers into strips.
In 9 x 13 pan, layer potatoes, onions and peppers.
Place sausage on top of vegetables.
Pierce sausage with fork.
Pour olive oil overall.
Sprinkle with garlic salt and oregano.
Bake at 375 degrees for about 1 1/2 hours, or until potatoes are cooked. whiles baking periodically stir vegetables and sausages around to coat with pan juices.