Jeanie's Crumb Topped Coffee Cake
lets.eat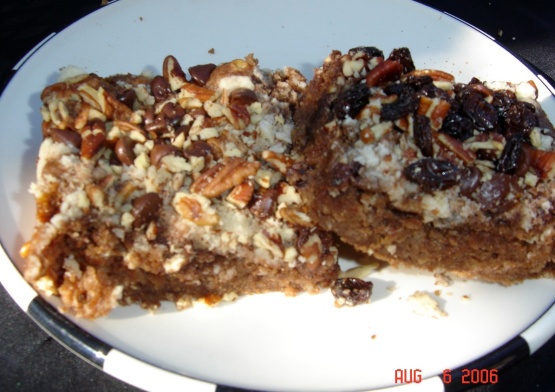 This recipe came from one of those little books you find at the grocery store checkout. My friend, Jeanie, gave this recipe to me years ago. Coffee cake has never been on my "top ten" things that I like to make, but I suppose I made it the first time because of company coming. Needless to say, it is a family favorite. Notice the small amount of cocoa that is used. that is the key ingredient! I automatically double the ingredients and bake in a 9x13 pan. You might as well do the same!
For the buttermilk, you can also place 1 TBS.
vinegar into a one cup measure.
Add milk to the one cup line.
Let mixture sit for 10- 15 minutes.
It will curdle, that's okay!
Mix together flour and sugar.
Cut butter into this, using pastry blender until butter is in small pea size pieces.
(I sometimes use a fork and knife to mix!).
Reserve 1 cup of this flour mixture and set aside.
Into remaining flour/ butter mixture, measure baking powder, soda, salt, cinnamon, nutmeg and cloves.
Mix well.
Add buttermilk and mix well again.
Batter will be thin, like water.
Pour into greased, 9x9 baking pan.
Sprinkle the reserved 1 cup flour/butter mixture on top.
Sprinkle chocolate chips and pecans over all.
Bake 350* for 30 minutes.