Jazzy New Orleans Chicken
PaulaG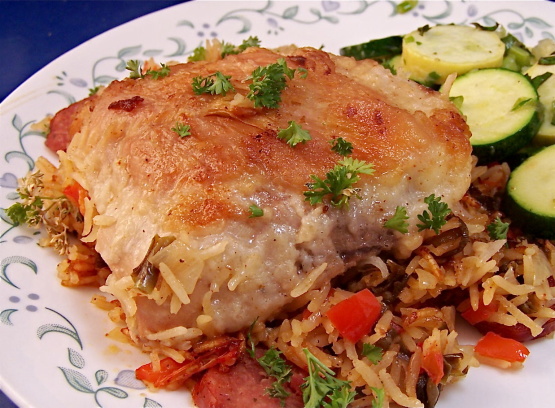 Tender rice, juicy chicken and LOTS of flavor from herbs and smoky sausage combined in an EASY one-dish perfect for casual weekend entertaining.

This was delicious! I didn't change much except to use a pinch extra of cayenne and I tossed some cajun spice into the flour dredge. I was supposed to have guests this past weekend who cancelled last minute and I was going to try it out on them. But I ended up just making it for me and DH anyway - and we loved it! Great one dish meal too, if you like that. I used Andouille sausage as well, 1 red and 1 orange pepper. 2 sm bone-in breasts and 3 drumsticks (equaled ~ 2.25 pounds). One thing - it makes A LOT! I'd say at least 6 servings. We have some much leftover! Having it again for dinner tonight. Thanks Chili - great recipe and definitely a keeper for us!
In a bowl, dredge chicken in flour, turning to coat all sides. In large sauce-pan, heat oil over medium heat: brown chicken, about 8 minutes per side. Transfer to a plate.
In the same pan, cook sausage, garlic, onion, peppers, tomatoes, sugar, thyme, oregano, salt, allspice, and cayenne, stirring occasionally, for 10 minutes or until peppers are softened. stir in rice. Add stock and bay leaves.
Nestle chicken into rice, bring to a boil. Reduce heat, cover and cook for about 20-25 minutes, or until liquid is absorbed and juices run clear when chicken is pierced. Remove bay leaves. Serve sprinkled with parsley. Garnish with lemon wedges.