Jaxon's Potato Chile Soup
Bobtail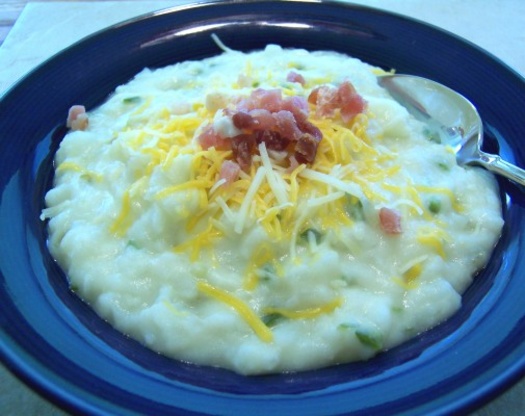 Jaxon's is local and they make the best potato soup with green chile. The recipe is printed in the El Paso Junior League cookbook and there have been people to buy the cookbook for this recipe.

Great soup! I am out of milk (again!) so I just used additional chicken stock. Pepper mix was from my garden. Added some Velveeta to make up the difference. Only other thing I changed was adding one clove garlic. (onion is incomplete w/out garlic in my house!)
Combine the first 6 ingredients.
Bring to a boil and reduce heat, simmer 20 minutes.
In a separate pan, melt the butter over low heat, add flour and blend until smooth.
Cook the roux over low heat for 3 minutes, constantly moving it so it will not scorch.
Strain liquid from potato/chile mixture and reserve 3 cups of the liquid.
Mash half the potato/chile mixture, reserving the other half.
Stir the reserved cooking liquid into the roux, raise the heat and whisk with a wire whip until thickened.
Add milk to thickened liquid and continue to stir until it comes to a simmer.
Turn off the heat, add mashed and unmashed potato/chile mixture.
Serve topped with shredded cheese on top.