Kim127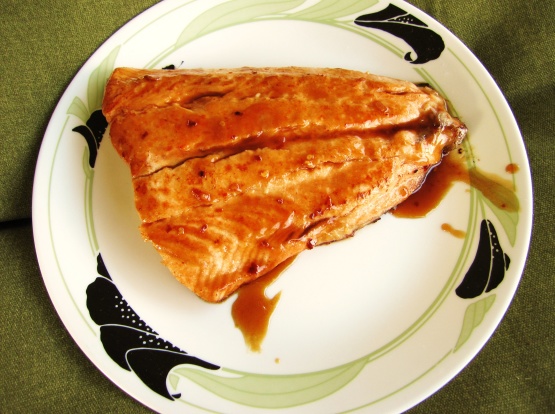 I don't know where I found this recipe but my boys love it. It's very simple and I usually have all the ingredients on hand.

Very good! The sauce was delicious, to us, it was like a teriyaki sauce. The next time I make this, I will cut out the butter entirely (sub with additional liquid if needed), or just use a little butter on the fish directly before spooning the sauce on top. The butter in my sauce separated out. Easy to make. Made for the Vivacious Violets for ZWT7.
Melt butter in heavy large saucepan over medium heat.
Add crushed red pepper and garlic and stir about 1 minute.
Add sugar.
Whisk until mixture is melted and smooth, about 4 minutes.
Whisk in lime juice and soy sauce.
Increase heat and boil until reduced, about 2 minutes.
Add cornstarch mixture and boil until thick, about 3 minutes.
In another large skillet, melt 1 tablespoon butter over high heat.
Add salmon.
Cook 2 minutes per side.
Spoon 2 Tablespoons sauce over salmon.
Transfer to baking dish.
Roast at 400 degrees for 5 to 8 minutes.
Serve with remaining sauce.