momaphet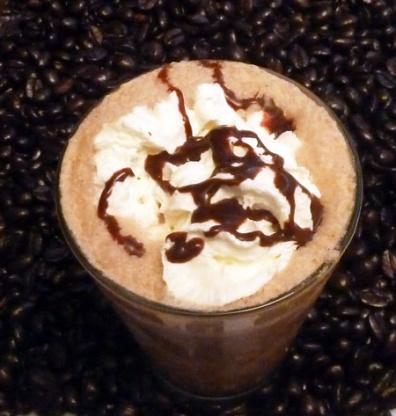 My hubby and daughter are addicted to these things, so I tried to find out how to make them at home. Couldn't find on 'zaar but found elsewhere on the web, so posting here for safe keeping (and easy find!). Edited to add -- you will want to add some milk or cream to this in order to make it creamy (unless you just want a pure coffee drink!). In our house we add milk, cream, or even a touch of vanilla ice cream -- depending on what we have.
Yum! The perfect Friday afternoon pick-me-up! I used fresh brewed espresso, added some cream and a little more chocolate to the blend. I don't usually add sugar to my coffee and even with the extra syrup this wasn't very sweet, which I really appreciated. Made for Best of 2010 Tag
4

tablespoons chocolate syrup

4

tablespoons chocolate chips

4

cups double-strength freshly brewed dark roast coffee
ice, crushed
whipped cream (optional)
chocolate syrup (for drizzle) (optional)
Fill blender half full with chopped or crushed ice.
Add all ingredients (except whipped cream) and blend until thick and still icy.
Pour into 4 tall glasses, top with whipping cream and drizzle chocolate over the whipped cream.