Jasper's New England Clam Chowder
Parsley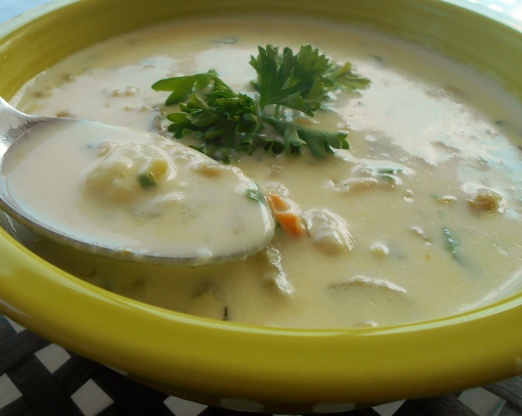 Jasper White is famous for Chowders. He has published a cookbook of just chowders. This is the pot of chowder served at our house our way, mostly on cold winter nights. It has none of the glue of flour, so is quite good for gluten-intolerant folks. I use salt pork in place of bacon. My father made a CT broth chowder and that was the fat he used. It's a little more subtle than bacon and I am a bacon fan. Some scallions are also a nice add at the end. The fresh thyme, though, makes this the best chowder I've had.
Heat 4 to 6 quartsized soup pot, over low heat.
Add diced bacon, rendering fat, cook til crisp, with slotted spoon, remove bacon and set aside.
Add butter to the bacon drippings in the soup pot, then add diced onions, garlic, celery, thyme and bay leaves. Saute, stirring occasionally with wooden spoon, until onions are softened, not brown, about 10 minutes.
Drain the canned clams, saving the liquid into the soup pot. Set the clams aside with the crisp bacon.
Add the diced potatoes and bottled clam juice to the soup pot. Total broth should just barely cover the potatoes, if it does not, add a little water. Cover and cook vigoriously about 10 minutes.
Mash cooked potatoes with a spoon against side of pot to thicken chowder.
Cook 1 to 2 minutes more,uncovered, to release the starch from the potatoes, which causes the chowder to thicken nicely.
Remove from heat. Add clams, bacon, and cream.
Season and add Parsley. Serve immediately.