vrvrvr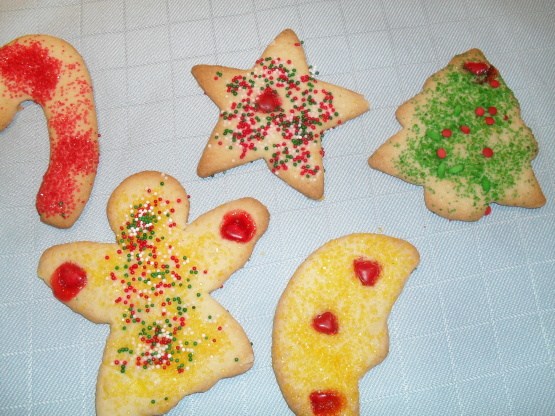 It is with a bit of hesitation that I post this recipe, since I don't actually LIKE these cookies! They're a bit too dry and flour-y for me. They are, however, my husband's very favorite sugar cookies, and quite fondly remembered from his childhood. I am posting this so I don't lose it--the recipe is written on a well-worn piece of paper sent to us by his mother. She had written all sorts of comments about the recipe as well; I have posted it sans comments. I am also going to post my own (much tastier, in my opinion) recipe for sugar cookies. Anyway, this recipe came from a cookbook from the 1960's--no idea what it was. If you make these and don't like them, don't say I didn't warn you! Hah! :) (Prep time does not include refrigeration, and servings are a guess)

Top Review by vrvrvr
After reading the amusing introduction, I decided to reduce the flour down to 2.5 cups. I also cut the nutmeg back to a dash. I left everything else the same, and this has resulted in an exceptional sugar cookie. Be warned, though, that made this way the dough is very buttery and fragile. It has to be super cold to work with (I chilled it for several hours, and just cut off small bits at a time, keeping the rest cold) and I used liberal amounts of flour for rolling and cutting. I baked at 350 for 9 minutes per tray. The taste and texture of these cookies are heavenly! We are purists for the Betty Crocker powdered sugar cookie recipe but I wanted to try something different. My daughter said these cookies rate as high as our old favorites. Next time I might try adding 3 cups of flour to produce a heartier dough. I can see where 4 cups of flour would make them dry. I loved the sour cream in this dough. This is a special cookie and perfectly suitable for Christmas! Thank you for posting the recipe!
Sift flour with baking powder, soda, salt and nutmeg; set aside.
In large bowl of electric mixer, at medium speed, beat butter and sugar until combined then beat in sour cream, egg and vanilla until smooth.
Gradually add flour mixture, beating until well combined.
With rubber scraper, form dough into a ball.
Wrap in waxed paper, plastic wrap, or foil; refrigerate overnight or several hours.
Divide dough into four parts.
Refrigerate until ready to roll out.
Meanwhile, preheat oven to 375 degrees.
Lightly grease cookie sheets.
On well-floured surface roll dough, one part at a time, 1/4 inch thick.
With floured, 2 1/2 inch round or scalloped cookie cutter, cut out cookies.
Using spatula, place 2 inches apart on cookie sheets.
Sprinkle tops of cookies with sugar.
Place a raisin or almond in the center of each, if desired.
Reroll trimmings, and cut.
Bake 10 to 12 minutes or until golden (be careful, they burn easily).
Cool.