Jasmine Rice Salad With Fresh Ginger Dressing
Elmotoo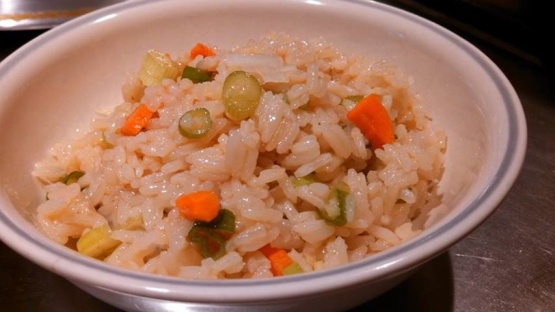 A vegan recipe from 101 Meatless Family Dishes. Unfortunatley no other rice substitute will do. Can be served either chilled or at room temperature.
Wanted an interesting side salad with leftovers, this came up. Used day old rice, this recipe is an easier alternative to making fried rice. Didn't have peas but used leftover cooked beans instead. The fresh ginger makes a huge difference! This recipe is a keeper.
1

jasmine tea bag

1

cup jasmine rice

1

cup fresh green peas (frozen can be used-thawed to room temperature)

1

large carrot, thinly sliced

Dressing

3

tablespoons vegetable oil (more or less)

2

tablespoons regular sesame oil
1⁄3 cup rice vinegar
1 1⁄2 teaspoons freshly grated fresh ginger, to taste (NOT dried ginger)
Steep the tea bag in 2 cups of boiling water for 4-5 minutes in sauce pan. Discard tea bag, bring water to boil, and add the jasmine rice.
Cover pan, reduce heat to low and cook 15-17 minutes or until rice grains are soft and fluffy and water is absorbed.
Remove rice from pan and allow to cool.
Microwave or steam the green peas just until tender. Drain and rinse with cold water to stop cooking process. Once cooled, toss with the carrots and cooled rice.
*Combine the dressing ingredients in a bowl then toss well with the rice mixture. Transfer to a salad bowl.
Serve chilled or at room temperature.
*Salad dressing can be prepared several hours in advance to allow to marinate if you desire.