A traditional Middle Eastern salad served all the way to Sudan. It's simple and DH likes it a lot since he likes mushrooms. Modified from a recipe found on allrecipes.com posted by IMANKAY. Note: Sumac is available as a ground spice in Middle Eastern markets, it comes from the dried berries of a shrub that grows wild in Mediterranean. The taste is sour, fruity and astringent.
Directions
Wash and dry arugula.
Arrange leaves on a large plate and layer with onions, mushrooms and tomato if using.
Whisk together olive oil, lemon juice and sumac. Season to taste with sea salt, and pour over the salad.
Reviews
Most Helpful
I was surprised at how truly tasty and flavorful this was! I cannot find sumac, so I had to use extra lemon juice. I used grape tomatoes for the tomato and a Vidalia onion for the sweet onion. I also added a touch of freshly ground pepper. The results was simple, yet delicious! Thanks for sharing. Made for ZWT7 by a Hot Pink Lady.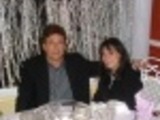 The salad is simple, but the dressing really adds fabulous flavor. The sumac really brought a unique flavor to the dressing. I made this exactly as written, including the tomato (though I only used 1/2 of a tomato). I think cucumbers would work well in this, too. Thanx for posting!

I still prefer my mushrooms cooked or at least slightly softened. That said, this was a delicious salad and very simple. I skipped the salt in the dressing because sumac adds a nice salty flavor. A few baby spinach leaves were thrown into the mix, too. Sun dried tomatoes replaced a fresh one. Reviewed for our VIP in Veg Tag February.