Japanese Vinegared Cucumbers
MsPia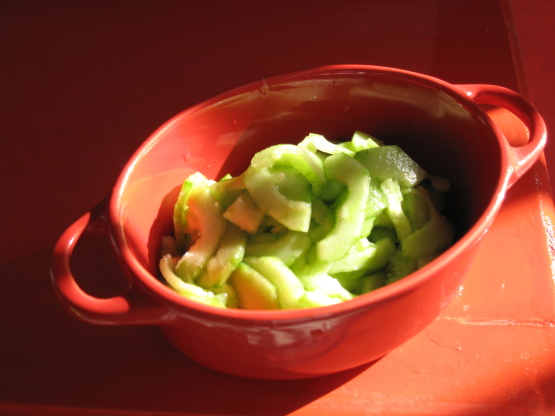 This is in response to a request. It is from "The Complete Asian Cookbook" by Charmaine Solomon. It does require that it marinates a while before serving. There is no real cook time involved.

Top Review by Donna
I am the one who requested these and I finally made them, and am I glad I did!! Exactly what I was looking for, they serve these as an appatizer at my favorite Japanese restaurant, and this recipe is pretty near identical, I am so happy! Thanks so much Taylortwo!
Peel and slice in half lengthwise and remove seeds.
Cut into thin slices.
Combine all other ingredients and marinate cucumber in the seasonings for at least 1 hour.
Serve as a side salad or relish.