Japanese-Style Rice Salad
Prep 15 mins
Cook 15 mins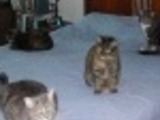 Found several interesting looking rice salads in the NY Times on July 30, 2008 by Mark Bittman (the minimalist). He says rice salads are among the few salads that don't deteriorate after the dressing is added, so they can be dressed minutes or hours ahead. He recommends that you cook the rice a bit in advance, and dress it before it gets too cold. He also recommends that you cook the rice like a pasta, in abundant salted water (for between 15 and 45 minutes, depending on the rice) and then drain it and dress it when the rice is cool enough to handle. Cooking time is for white rice.
Directions
Cook rice in abundant salted water, as you would pasta, until it's just done; white will take 10-15 minutes, brown 30 minutes or more. Drain, rinse in cold water, drain again, then combine with vegetables and tofu in a large bowl.
Put black pepper, miso, water or sake, sugar, mirin or honey, and vinegar in a small bowl and whisk together. Taste and add more vinegar and a pinch of salt if needed.
Combine rice mixture with miso dressing with 2 big forks, fluffing rice and tossing gently to separate grains.
Crumble nor over salad and sprinkle with sesame seeds, taste, and adjust seasoning or moisten with a little more dressing. Serve at room temperature or refrigerate up to a day, bringing salad back to room temperature before serving.
Reviews
Most Helpful
Tasty. I made the brown rice version and left out the celery, just because I forgot to buy it. The sauce was a little too sweet for my taste. We loved the nori in it. I could see using ume plum vinegar and some avocado in it. Avocado is my favorite sushi roll. Thanks for posting!
Delicious - the sake and miso dressing is really good. I'd love to take this to a potluck where I knew lots of guests liked sushi, because the bits of seaweed with rice vinegar, veggies and short grain rice give it that flavor sushi-lovers crave. This is such a flexible recipe as you could use any veggies you had leftover,or canned like water chestnuts, baby corn, etc. A half recipe with one cup rice makes a huge bowl that could serve four as an entree or eight as a salad.