Japanese Style Cucumber Salad
teresas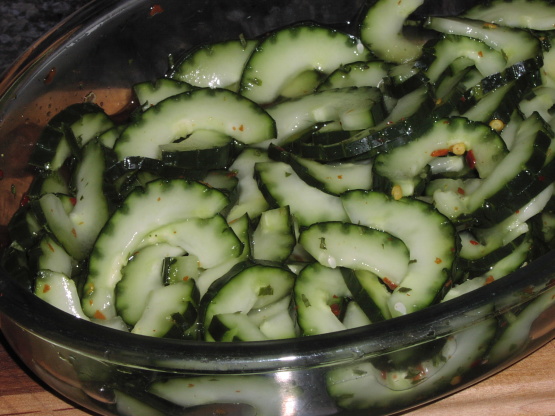 Once upon a time I had a similar recipe from Cooks Illustrated, but can't seem to find it. This is the closest I can come from memory. It's pretty good (pat on back...) but something is not quite the same. The amount of red pepper is for average heat - adjust to your taste! COOKING TIME IS REFRIGERATION TIME.
Wash cucumber very well, or peel it.
Cut cucumber in half crosswise and then in half lengthwise. Remove seeds.
Thinly slice cucumber and place in a glass bowl.
Thickness depends on how crisp you want the cucumbers to be when finished. Thicker = Crisper, but Thinner = Yummier!
Place remaining ingredients into a magic bullet jar or a small food processor bowl. Process for about 30 seconds or until the mint looks like small specks.
Pour marinade over sliced cucumbers, mix well and refrigerate for at least an hour.
To serve, I usually place in individual shallow white prep bowls or little japanese ceramic serving dishes, spooning a little bit of the marinade over the top.