Japanese Style Chicken Wings
lazyme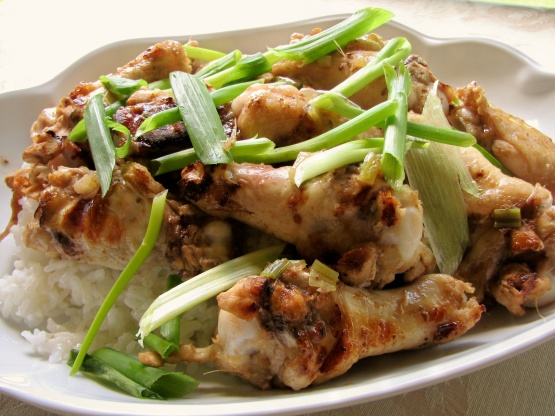 The prep time includes marinating time.

I made this dish for dinner last night along side brown rice and steamed veggies. My husband and I LOVED it, I made sure I shared this recipe with friends!
Wash the chicken wings and wipe dry. Cut off the wing tips. Bend each wing until you can see the joint, then cut through with a sharp knife. Rub each piece with salt.
Mix the grated ginger and most of the spring onions with the sake, soy and mirin. Toss the chicken wings in the marinade until well coated, cover with plastic film and leave for at least 30 minutes.
Heat the grill or a cast-iron griddle. Drain the wings, reserving the marinade, and cook on both sides until half cooked, for around 10 minutes. Coat in the marinade once more, then cook for a further 10 minutes, or until golden and tender (chicken always takes longer to cook than you think), turning once or twice. Scatter with the remaining spring onions and serve with lemon wedges and steamed rice.