Japanese Style Chicken in a Pot Soup
IngridH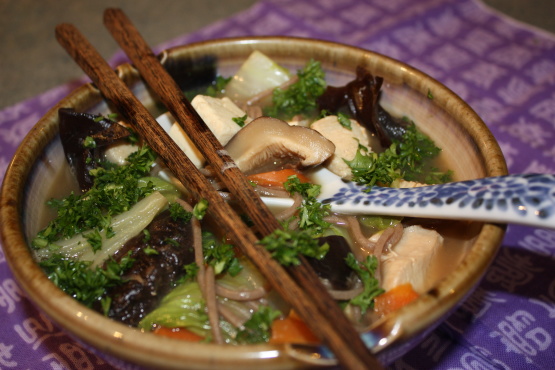 Try to find fresh shiitake mushrooms or black Chinese mushrooms for this, as they add a very distinctive flavor to the soup. If you can't find them, substitute 2 oz of dried mushrooms that have been rehydrated according to the package directions. This is a nice, light tasting chicken noodle soup. A girlfriend that moved from California gave me this recipe....don't know where she got it.

Made this delicious soup today for lunch -- it is a very filling soup with all those wonderful ingredients. I did add additional soy and sherry and additional pepper. I could not find any good napa cabbage so i used organic baby spinach and regular mushrooms vs. shitake (just my preference). This soup makes such a healthy and filling soup meal -- plus it really makes a great presentation. Made for PRMR, September, 2013.
6

ounces japanese noodles, uncooked (soba or udon)

8

cups chicken broth

12

ounces chicken breasts, skinned and boned, cut into 2 inch pieces

1

cup carrot, very thinly sliced

9

fresh shiitake mushrooms or 9 fresh black Chinese mushrooms, halved

6

large napa cabbage leaves, cut into 2 inch squares

1

(8 ounce) can bamboo shoots, drained

3

green onions, cut into 2 inch pieces

12

ounces firm tofu, drained and cut into 1 inch cubes

1

tablespoon dry sherry

1

dash pepper

1

tablespoon soy sauce
1⁄2 cup fresh parsley, chopped
Cook noodles according to the package directions; drain. Set aside.
Bring the chicken broth to a boil in a large Dutch oven over medium-high heat. Add the chicken and carrot; reduce heat, and simmer uncovered for 15 minutes.
Stir in the mushrooms, Napa cabbage leaves, bamboo shoots, and green onions. Simmer uncovered for 5 minutes.
Add the reserved noodles, cubed tofu, sherry, pepper, and soy sauce. Simmer uncovered an additional 10 minutes or until the mixture is thoroughly heated.
Serve in individual soup bowls and sprinkle with parsley.