Japanese Soy Glazed Sweet Potato
Chickee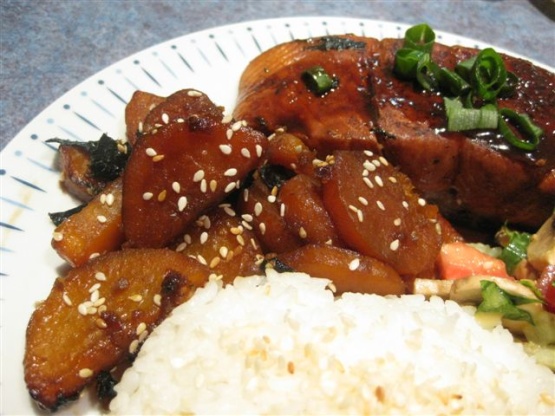 This is a really tasty dish which we like as part of a Japanese meal- usually we'll serve with a tofu miso soup, steamed short grain rice and a salad made with Japanese-Style Miso Salad Dressing. I'm not sure how many serves but would serve 4 in this style meal. To make it faster, I often microwave the potato for 5 minutes first and leave out the water when baking. This way it's done in about 30 minutes.

This was so quick and easy to make and tasted so yummy - and complimented the chicken and crunchy stir fried veges that were served with it. I used purple kumara and toka toka (the orange kumara) which is what we call sweet potato in New Zealand. The flavours weren't overwhelming and it didn't taste salty - I used Japanese organic tamari, which is wheat free. The sesame seeds at the end were a nice touch, I think this would taste great with or without the shredded nori so leaving that out if you don't have it wouldn't make a significant difference. (I also didn't cover it and it didn't seem to make a difference to me, but I had everything crammed in a small dish so maybe this why). Thanks for posting this Chickee, I'll definitely make it again. Made for Aussie NZ Swap June 2009.
Preheat oven to 400°.
Combine first 6 ingredients; stir well with a whisk. Arrange potatoes in a single layer in a 13 x 9-inch baking dish.
Pour soy sauce mixture over potatoes. Cover and bake at 400° for 50 minutes or until tender.
Baste with the soy sauce mixture. Uncover, and bake an additional 10 minutes or until liquid is absorbed.
Sprinkle with sesame seeds and shredded nori, toss and serve.