Japanese Negi (leek) Patties
awalde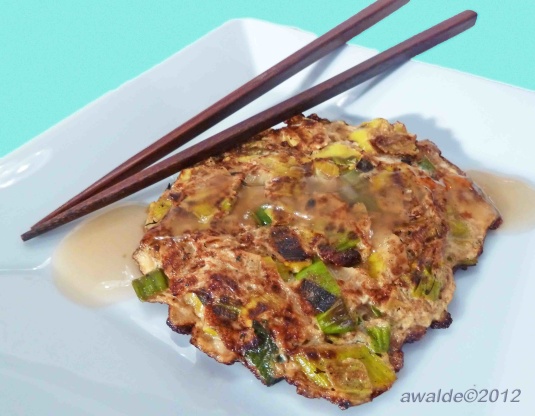 Tomoko's mum Toshiko sent me 3 new cookbooks. They are written in Japanese, so Tomoko and I are going to slowly translate the recipes we want to make-here is the first one! Prep time doesn't include cooling the leeks.

Top Review by Latchy
These patties have a very delicate flavour and the sauce the same. I must admit I like a bit more oomph and would proably use some fresh coriander next time. I served these for brunch with a daikon radish & carrot salad. It was only enough for 2 served this way.
Stir fry the leek in the 1 tablespoon of oil until a little softened.
Cool.
Meanwhile place the first 4 sauce ingredients in a saucepan and bring to the boil.
Add the cornstarch mix to this, and stir until it thickens.
Set aside.
Place the leeks, eggs and pinch of salt in a bowl and mix.
Heat half the sesame oil in a large frypan over medium high heat.
Using half the mix, form 4 patties in the pan.
Cook until golden, turn over cook until golden and cooked through.
Keep these warm whilst you repeat with the remaining sesame oil and leek/egg mix.
Divide between 4 plates, and serve with the sauce spooned over.