Parsley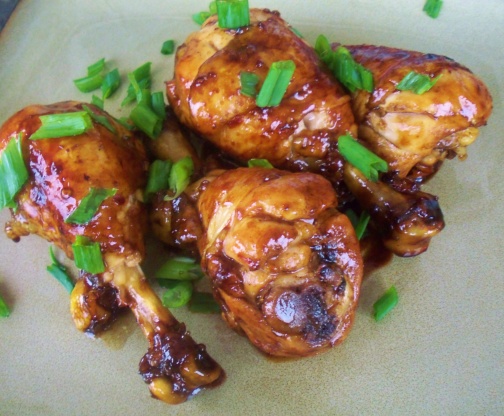 We have a Japanese girl, Tomoko, living with us, and tonight she and I cooked a Japanese dinner for us and her friends. She phoned her mum,Toshiko, in Japan for this, as it's her favourite recipe, and I wanted to share it here. It's simple and so good, and Tomoko, who is only 16, did such a good job of cooking this, then translating the recipe to English for me. *The liquid will thicken to a glaze if you are patient. It just takes a bit of time. If you feel your chicken is cooked (and going to overcook) remove it before going on to reduce the liquid. Same thing, if you must use breast meat, remove it (so it doesn't dry out) and continue reducing the liquid . If you do it this way rather than thickening with cornstarch you will get a richer glaze and not need to add stock or broth instead of the water. It just takes patience. AND NOTE: A glaze is sticky and coats the meat, this is NOT a sauce.

For those who want EXTRA SAUCE/GLAZE read here! I wanted to serve the chicken over rice but I wanted it to be saucy. I doubled the ingredients and did 10 drumsticks BUT I threw it all into a crock pot. I didn't want to have to stand over the stove so the crock pot was great! I let it cook for 4 hours on low, and next time I would throw in some thighs and maybe even breasts. There was sooo much extra sauce, that it almost needed more chicken. My husband and kids loved it, the sauce is delicious even by itself over rice! The crock pot made the chicken so tender it was just falling off the bone. I eventually did take all the meat off the bone, put it over the rice and spooned the sauce over..YUMMY! Definitely a recipe that will stay with me forever, I even posted the recipe from this site onto my Facebook status as "Tonights Dinner!"
Place all the ingredients in a saucepan over a high heat.
Bring to the boil, then reduce to a simmer for about 20 minutes.
Remove any scum that rises to the surface.
Increase the heat, turning the drumsticks frequently in the liquid, and cook until the liquid has reduced to a sticky glaze.
Arrange the chicken on a serving platter, remove the garlic clove and chili from the liquid, and spoon the glaze over.
NOTE It's a glaze rather than a sauce, so there's not a whole lot of it.