Nat K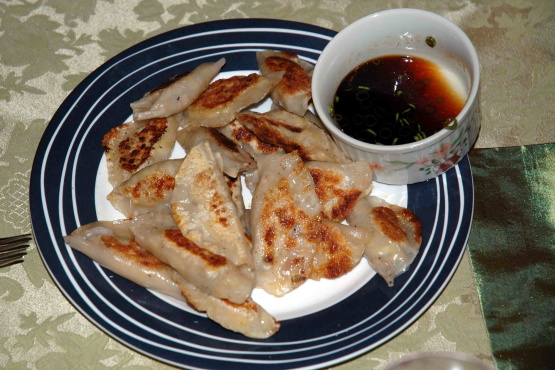 This is a great recipe for Gyoza. It is a little time consuming to make, but oh so worth the effort. A gyoza press makes the job easier. It makes 100 gyoza. I make them all and freeze the others (uncooked)for another time. The dipping sauce is so tasty that you will tempted to get up in the middle of the night and stick your finger in for a little taste. MMmmmm!

Original review Sep 7, 2003I didn't make the Gyoza becuase there was no way I could eat that many and there's not enough room in my freezer for that many. I may try to cut the recipe down to make a dozen or so and see how they come out. :) I did make the sauce and used it as a dressing on a crab and lettuce salad. I didn't use the chili oil because I can't eat hot things like that and I didn't have any szechwan pepper. (I'll have to look for it in the store.) Even without those two ingredients, the sauce was very good!! I will definitely be making it again. Thanks for the tasty recipe. Editing to say I am removing the stars since I did not make the recipe as written. The dipping sauce deserves 5 stars but since I did not make the Gyozas, I cannot fairly give the whole recipe 5 stars but it is not fair to give it 3 since the gyozas might be really good. Thanks
In a large skillet brown the pork and sausage.
Saute this over med-high heat, adding the soy sauce and chili oil.
When the meat is browned, add the next 4 ingredients and fry for several minutes.
Add cabbage, cook til wilted.
Add broth.
Cover, let mixture steam until liquid is reduced.
Remove mixture with slotted spoon and place in bowl to cool.
*Brush water around the edges of gyoza wrapper.
Place filling in gyoza.
Seal with gyoza press or pinch together with fingers making little folds.
Heat less than 1/4 cup peanut oil in pan.
Addd several gyoza to pan.
Brown gyoza on both sides.
Carefully add 1/4 cup water to hot pan and quickly cover.
Let steam until liquid is evaporated.
Remove to cool.
Makes about 100.
These freeze well, freeze in single layer.
*Ihave made the the filling the day before and assembled the gyoza right beore cooking.
The whole family helps with this process.
To make dipping sauce: Simply combine all of the ingredients in your blender or food processor.
Blend at high speed until the sauce is smooth.
Pour the sauce in a small serving bowl and top with a couple of drops of chili oil (if desiring a hotter sauce) and chopped green onions.