Bergy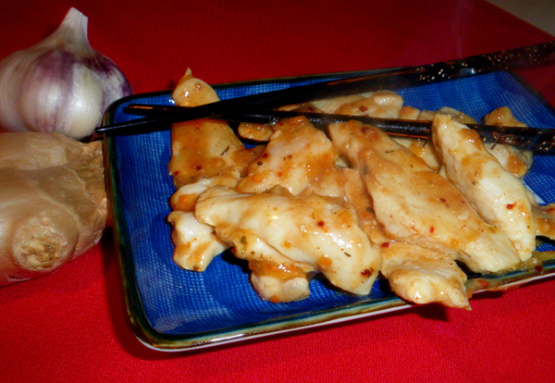 I remember being in the fourth grade and having to present a report on Japan. My mother helped me find the above recipe and she helped me make it to take to school. I recall being extremely tired (it was late at night), and she told me to go to bed; that she would finish making the chicken. This one moment is a treasured memory of how hard my mother worked to make me happy. I know that she too had to be tired, but she sacrificed yet again on my behalf. I know this is one of numerous examples of her selfless acts of love toward me, but it is one that stands out in my mind. Don't believe this authentic, but it is yummy.

Top Review by Bergy
This was a difficult recipe to rate because the instructions were so brief. In order to cut back a bit I didn't "cornstarch" the chicken and didn't use oil on the fry pan - I used a spray of "no oil" and cooked the chicken - I saved the marinade, added 1 tsp of corn starch to it and added it to the pan after the chicken was cooked. I didn't have Accent seasoning so I added 2 tsp of Mrs Dash Chiipotle spice. Enjoyed served with rice, green beans and pearl onions
Mix together the soy, ginger, sake, and Accent. Pour over the chicken and marinate for 45 minutes. Coat chicken with cornstarch and fry in hot oil until browned.