iRatatouille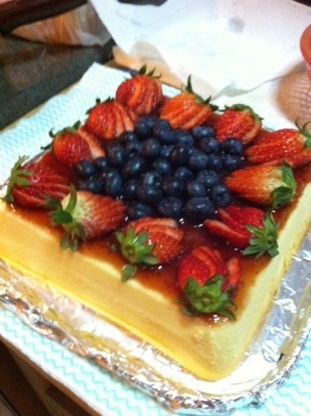 Living in Japan I discovered this nice Japanese Cheesecake. Myself, I think it's really delicious.

First trial didn't turn out good but the texture is definately there. Here's a few tips: 1) For first timer, to beat egg white to become foamy and peak, you MUST MAKE SURE the bowl and beater DOES NOT have oil. Must be absolutely clean. Don't use plastic bowl because oil tends to stay on it even after cleaning. Egg white MUST NOT HAVE even a slight egg yolk in it. Normally people beat egg yolk first, but I am lazy. I beat the white first, so I don't need to clean the beater when I use for egg yolk. But you have to make sure you prepare all the ingredients and work fast. Otherwise the foamy egg white will become flat. 2)You might need to consider reducing lemon juice or go with none. After reading other reviews, I reduced to 1 tbs, and still turned out too sour. I use fresh lemon juice. 3) Baking time really varies. Mine take 1.5 hours, using a square pan. 4) Cool it in the oven that you turn off so it doesn't sink. 5) If you try to bake it without the roasting pan containing water, the side will burn very fast. Hope it helps!
Preheat oven to 350 degrees.
Spray a 9-inch cake tin with cooking oil spray.
Beat cream cheese with milk to soften.
Add half of the sugar, egg yolks, cornstarch and lemon juice.
Beat until smooth.
Beat egg whites in a separate bowl until foamy.
Gradually add remaining sugar and cream of tartar, to the egg whites, beating on high speed until soft peaks form, about 8-10 minutes.
Gradually fold beaten egg whites into the cream cheese mixture, stirring gently.
Pour into cake pan and smooth the surface.
Place cake pan into a larger roasting pan and place in lower rack of oven.
Pour enough water into the roasting pan to come half way up the side of the cake pan.
Bake 35-40 minutes, until a pick inserted in the middle of the center comes out clean.
You can eat like this, or you can put jam on top of it.
Put the jam in a sauce pan with the water on a low heat and warm up until it's melted.
Then spread the glaze on top of the cake.
If the surface becomes too dark while baking cover with a piece of tin foil, but be careful not to open the oven door until it has been in the oven for at least 20 minutes.