alligirl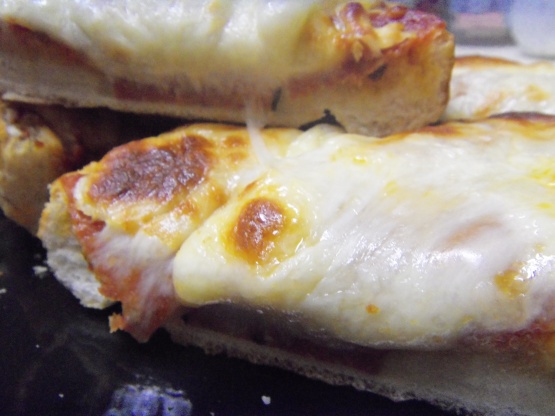 This is a great appetizer, but I sometimes make it for dinner.

This was a tasty 'homemade' pizza! I admit that when I went to use the italian sausage that I had, it was freezer burnt, so I just crisped my pepperoni up, before burying it between 2 layers of cheese! I'll certainly be making this again, and soon! Thanks for sharing, JRuiz.
Cook sausage and break into bite size pieces.
Cut french bread in half, long ways. Then partially cut bread into individual size servings without cutting all the way through.
Melt butter and spread on top of bread evenly.
Spread italian tomato sauce on top evenly.
Sprinkle with parsley, garlic and oregano as desired.
Sprinkle parmesan on top.
Place pieces of sausage.
Spread mozzarella on top.
Bake for 10 minutes in a 350 degree oven.