Jan's Peanut Butter Cookies
alligirl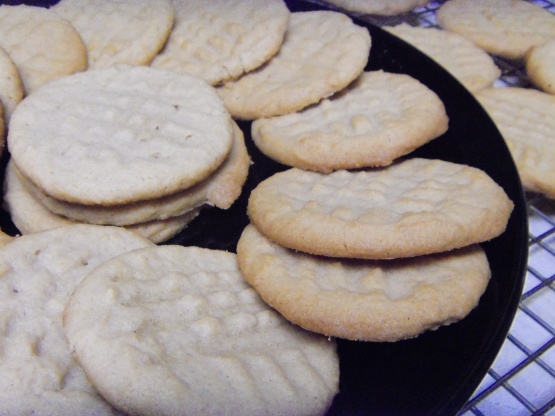 Tasty and simple, these are GREAT (and being scarfed down, even as I type!) I followed the recipe, as written, and could hardly wait for them to cool, before tasting them! They sure did make my DH and DS happy - that translates into making me happy! Thanks for sharing a great recipe, JRuiz.
Have baking sheets ready - do not grease. Start oven 10 minutes before baking at 375 degrees.
Sift flour, measure, resift 3 times with baking soda, baking powder and salt. Cream both butters until light. Add both sugars and cream very thoroughly. Beat in egg, then vanilla. Add flour in 2 or 3 portions. Measure level tablespoons of dough onto waxed paper; shape quickly into balls. Place 2" apart on baking sheets. Press twice with tines of fork, first dipped in cold water, to make crisscross pattern on top. Bake 10-12 minutes or until delicately browned. Remove immediately from baking sheets to cake racks to cool. Makes 2 3/4 dozen.