Jan's Monte Cristo Crescents
mewmew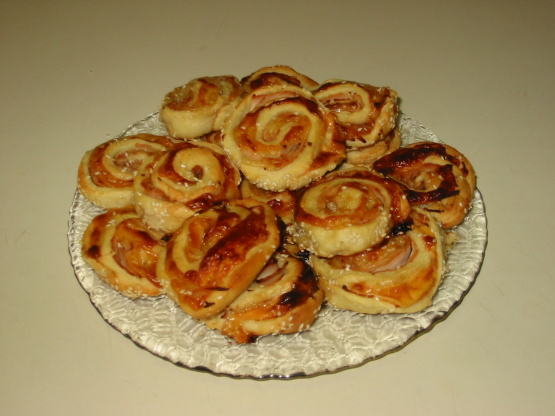 I made this from a combination of 119853 and 86644. I also made my own crescent dough from 35267. They turned out awesome and will be a regular in our house.

Yummy, just had to try these when I saw them. I used the canned crescent rolls. I ran out of provolone so on some of them I used swiss and did strawberry on half and blackberry jam on the other ones. I did have a problem with the cheese and the jam coming out while cooking. I guess I did not wrap them tight enough. They were still very good and the kids loved them in their lunchboxes. Thanks for a great recipe.
Preheat oven to 375 deg.
Use recipe for crescent dough 35267.
Prepare dough in a flat rectangular sheet.
place turkey with mustard on first.
Place cheese on next.
Cover with thin layer of jam.
Sprinkle pecans evenly.
Roll up fairly tightly and cut into about 1/2" slices.
Sprinkle top with sesame seeds (optional).
Bake for 20 minutes until golden brown.