Jan's - Diane's Cream Cheese and Beef Spread
flower7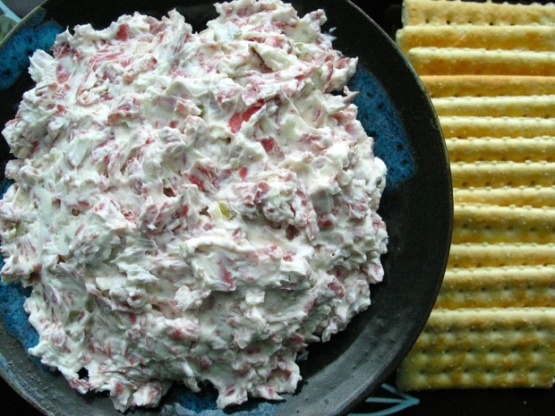 This is great on a bagel, melba toast, or even just plain bread.

Very tasty! I wasn't sure at first what jarred smoked beef was but finally figured out it was what I call dried beef. I assumed since the onion was to be softened in the sherry that it was supposed to be dried onion, so that's what I used. I also used neufchatel cheese and light mayo. I was a little short on green olives (only had about 2 Tbsp) but just used what I had and thought it was fine. The only change I would make next time is maybe a little less sherry. I enjoyed with crackers but am going to try other ways later! Thanks for sharing!
Soften onions in sherry.
Warm cream cheese to room temperature.
Blend mayonaise and cream cheese well.
Add onions.
Chop beef and olives.
Add to mixture.
Chill and serve.