Jane & Michael Stern's Old-Fashioned Homemade Turkey Soup
GirlyJu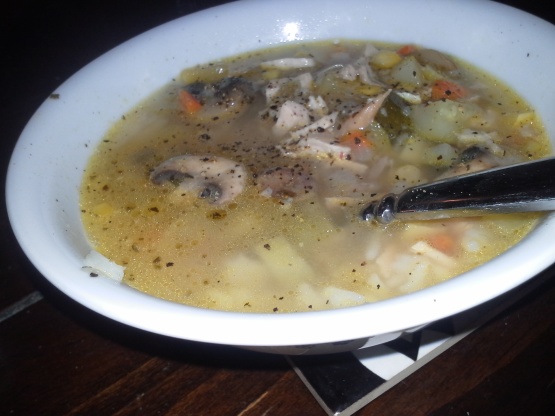 Jane Grossman Stern and Michael Stern are American writers who specialize in books about travel, food, and popular culture. They are best known for their "Roadfood" books, website, and magazine columns, in which they seek out restaurants serving American regional specialties. (Sort of a precursor to "Diners, Drive-Ins and Dives".) This recipe was published over 25 years ago, and I used to alternate this with my The Day After the Feast Before Turkey Soup to use my turkey carcass. I have also used orzo in this soup with great success. For either of my soups, I usually begin to make the stock or broth right after all my guests have left. I refrigerate it overnight, and make the soup the next day. You do need a meaty carcass to start with, which I couldn't indicate in the ingredient list.

I made this last night and I have to say, don't let the simplicity fool you. This was one of the best soups I've ever made/eaten. It's delish, rich, warm - the essence of Thanksgiving without the noise! I did not use parsley, and (as you can see in the photo) added a container of mushrooms which I had sauteed in butter and thyme. Both my husband (meat potatoes kind of guy) and I were literally sad when we had to stop eating after two bowls each!<br/><br/>***Update, one year later: I made this soup again after Thanksgiving and looked forward to it more than the turkey. This time I think I took it to a whole 'nother level by adding mushrooms, a shot of scotch and half a cup of cream. holy cow. best soup ever. :-)
Broth

1

turkey carcass, and skin (from one cooked 12 to 14 lb. turkey)

3

large celery ribs, cut into 1-inch pieces

3

carrots, quartered

2

large onions, quartered

12

peppercorns, crushed

2

large bay leaves

2

teaspoons salt (optional)

Soup

3

medium celery ribs, thinly sliced, about 1 cup

3

large carrots, peeled and diced, about 1 cup

2

large onions, diced, about 2 cups

2

medium zucchini, diced, about 1-1/2 cups

2

garlic cloves, crushed
1⁄4 teaspoon dried rosemary leaves
1⁄4 teaspoon dried thyme leaves
1⁄2 cup uncooked fine noodles (angel-hair) or 1⁄2 cup long-grain rice
1⁄2 cup chopped fresh parsley
salt & freshly ground black pepper, to taste
Prepare broth: Cut turkey meat from carcass; chop to measure 3 cups; cover and refrigerate to add to soup. Break up turkey carcass and place with skin in large kettle. Add celery pieces, quartered carrots and onions, peppercorns, bay leaves and salt, if desired. Add 12 to 15 cups water to cover carcass completely. Bring to boil over high heat; reduce heat to low; simmer, covered, 4 hours, stirring occasionally. Cool broth; using colander, strain broth into large bowl; refrigerate to chill completely. Discard turkey bones and cooked vegetables.
Prepare soup: In 4-quart saucepan over medium heat, melt butter; add diced celery, carrots, onions, zucchini, garlic, rosemary, and thyme. Cook 7-10 minutes, stirring frequently until vegetables are golden. Remove cooled broth from refrigerator; skim chilled fat from broth surface and discard. Measure 8 cups turkey broth, returning surplus to refrigerator for later use. Add broth to vegetables; bring to boil. Stir in noodles; return to boil. Reduce heat to low; simmer, covered, 15 minutes until noodles are tender. Add reserved 3 cups chopped cooked turkey meat and parsley, simmer 3 minutes longer to heat through. Season with salt and pepper.