Redsie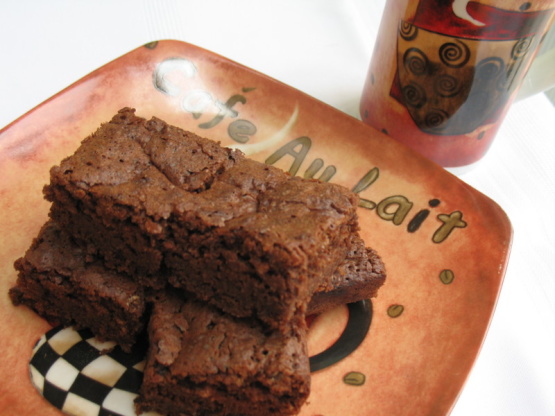 Who is Jane Davis anyway? I have used this quick and foolproof recipe for years and love it! Great tasting traditional brownie that is more melt-in-your-mouth than chewy.

I, too, clipped this recipe from a magazine years ago and according to my clipping Jane Davis is the owner of a bakery in Evanston, Illinois named Ganauche Ltd. This is an easy-to-make and and even easier-to-eat recipe. It was my first successful from-scratch brownie recipe and I still love it. One correction - in the ingredients you list the amount of flour as 1/4 of a cup. My clipping says 3/4 of a cup of flour is needed.
Preheat oven to 350°F.
Lightly grease bottom and sides of an 8-inch square baking pan.
Line with parchment paper, letting ends of paper extend above pan on 2 sides; lightly grease paper.
Mix flour, baking powder and salt (I do it on a small piece of waxed paper so I have less dishes to wash).
Melt butter in a medium saucepan over low heat.
Remove from heat and add unsweetened chocolate; stir until chocolate melts completely.
Stir sugar, vanilla and eggs into chocolate mixture (put it directly into the pan you used to melt chocolate).
Add flour mixture and chocolate chips and stir until just blended.
Spread evenly in prepared pan.
Bake for 20 to 25 minutes until top is firm when lightly touched.
Be sure not to overbake.
Cool in pan on wire rack.
When cool, lift out, holding paper ends, from pan to cutting board.
The parchment paper should peel easily off before cutting.