Jane Brody Turkey Carcass Soup
Blues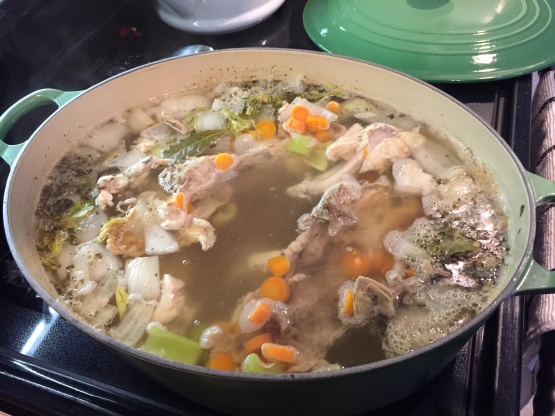 My family has been making and loving this version of Turkey Soup for years. It is wonderful. Times are estimated.

I have never had a better turkey soup. There is a great depth of flavor to it--nothing like so many I have tasted/tried to make in the past. The barley is a comforting addition. I also added a chopped parsnip to the stock part. So glad it makes more than needed for a batch of soup. Froze the leftover stock and look forward to making it again on another cold wintry day. Jane Brody never disappoints! (Oh, and one clarification: the bouquet garni consists of the parsley, thyme and bay leaf)
For the Stock: Combine all the ingredients in a large stock pot, bring the stock to a boil and simmer it, partially covered for two to three hours. (It tastes better the longer it simmers, as long as you don't cook away the liquid.) Strain the stock and cool in order to skim off the fat.
Remove all of the meat from the bones and refrigerate for adding to the soup later. Discard other vegetables, bones, turkey skin, etc.
For the Soup: In a large stockpot, sauté the onion and garlic in oil until soft. Add the carrots and celery and mushrooms and cook the vegetables for an additional 5 minutes . Stir occasionally.
Add the flour and stir for one minute.
Add the stock, marjoram, salt and pepper, and barley or rice. Bring the soup to a boil, reduce heat, partially cover the pot, and simmer the soup for about 1 hour. Add the turkey meat and hot pepper sauce. Adjust seasonings, and heat the soup to boiling. Sprinkle the soup with parsley just before serving.