Jamocha Me Crazy Milkshake
PaulaG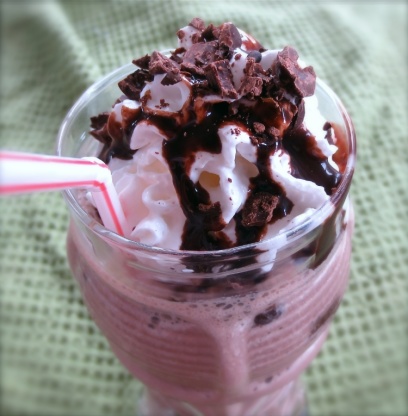 This recipe has been developed for ZWT9 and the wonderful hostesses with which I have the pleasure of working on ZWT with. This will get you buzzing. The chocolate covered coffee beans and Tia Maria are listed as optional but they do make such a wonderful difference!

What a decadent way to end the day and the supper. I really enjoyed it. I also think you can't go wrong without this recipe, even if you didn't use the whip cream and chocolate shaving. I did have the whipped cream, though, and used it. I kept this alcohol free, by not using the Tia Marie, because I was tired by the end of the day, and felt it would just keep me up longer.
Pour coffee into an ice cube tray and freeze. You will not need all the coffee cubes but they can be saved in a baggie to make this wonderful drink again.
Place the 1/2 cup milk, cocoa mix, coffee beans and ice cream in blender container. Add in 2 to 3 frozen coffee cubes and blend until smooth. The number of ice cubes depends on how much coffee flavor and how thick you want your shake. If you are using the Tia Maria add it prior to blending. If the shake is to thick add in the remaining milk until desired consistency.
Pour into 2 glasses, garnish with whipped cream, drizzle with chocolate syrup. Sprinkle with chopped coffee beans and enjoy.