Cook4_6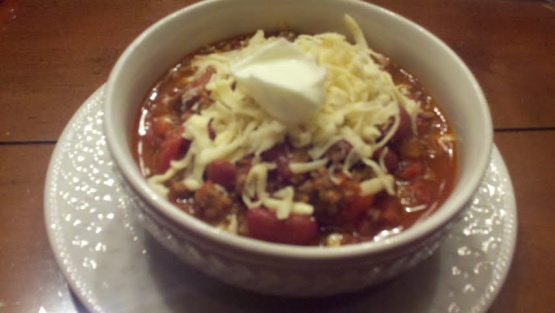 I was given 'Happy Days With The Naked Chef' and found that I enjoy Jamies style, he can be relied on for sensible recipes that work. I decided to try his Chilli Con Carne for my son and husband one weekend when the girls were away. Good comfort food, served over rice, DH found this spicy while I thought it could be pepped up a little more (sometimes I surprise myself!!).... adjust for your own taste! Jamie recommends chuck steak, minced, but I used ground beef that I had in the freezer. I don't think the sun-dried tomatoes are traditional, but they are a nice touch! This dish is ideal for make-ahead, and definitely tastes even better the next day!

My family absolutely loved this chili recipe. It was different than most, mild enough for the little ones, and had a great depth of flavor for the adults. I cheated by using a jar on sundried tomato pesto I had on hand, and by only cooking it for an hour. I bet it will be even better reheated as leftovers! It was delicious!
In a large pot, fry onions and garlic in a little olive oil until soft.
Add chilli powder, fresh chilli, cumin and a little seasoning. Then add the meat and continue to cook, stirring, until it has browned.
Process the sun-dried tomatoes in your food processor, with a little oil from the jar, enough to loosen into a paste.
Add these to the beef with the tomatoes, cinnamon stick, and the water. Check the seasoning, and add more if you prefer.
Bring to the boil, cover, turn the heat down and simmer for about 1 and a half hours.
Add the kidney beans about 1/2 an hour before serving, they are already cooked and only need to be warmed through.
Serving suggestions, steamed rice, crusty bread, a tossed salad, some guacamole or/and sour cream/yoghurt.