Jamie Oliver's Homemade Yogurt
gailanng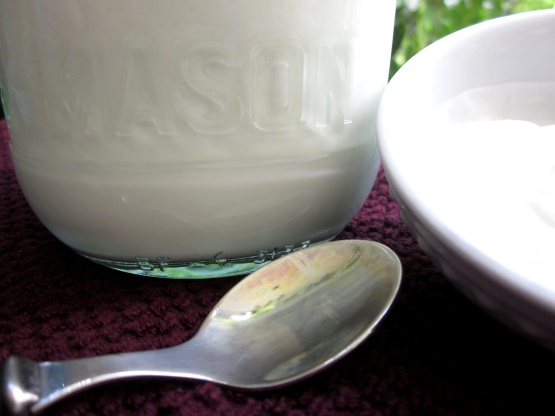 Homemade yogurt is easy, versatile and healthy. The uses are endless - marinades, baking, desserts, breakfasts, great on top of spicy lamb, curry, rice, couscous etc. The natural live cultures in the yogurt turns the natural sugar in the milk into acid; which again causes the milk to thicken and turn slightly sharp/tangy. Cooking time does not include the 6-8 hours needed for the yogurt to set.
4 1⁄2 cups whole milk

2

cups natural yoghurt
Bring milk to a boil in a thick bottomed pot. Turn heat off and leave for about 40 min until the milk has cooled down to body temperature. If you can keep your finger in the milk, you can go ahead and stir/whisk in the yogurt. Cover and leave at room temperature for 6-8 hours.
Place in the fridge to chill; it will keep for 1 week.