Jamie Oliver's Favourite Curry Sauce
MummaKat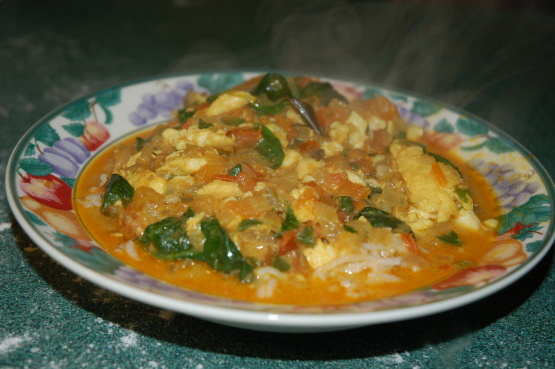 From his "Happy Days with the Naked Chef" cookbook, this variation is with fish. Easy to make, though I had to search for some of the ingredients.
Heat the oil in a pan, and when hot add the mustard seeds. Wait for them to pop, then add the fenugreek seeds, fresh green chilies, curry leaves and ginger. Stir and fry for a few minutes. Chop the onions and add to the same pan. Continue to cook for 5 munutes, until the onion is light brown and soft, then add the chilli powder and turmeric. Chop the tomatoes and add them to the pan too. Cook for a couple of minutes, then add 1 or 2 wineglasses of water and the coconut milk. Simmer for about 5 minutes until it has the consistency of double cream, then season carefully with salt.
Take this sauce as a base. To make the fish curry, add the fish and tamarind to the sauce and simmer for 6 minutes. Feel free to add some baby spinach and chopped coriander at the end of the cooking time.