Jamie Oliver's Best Pasta Salad
gerry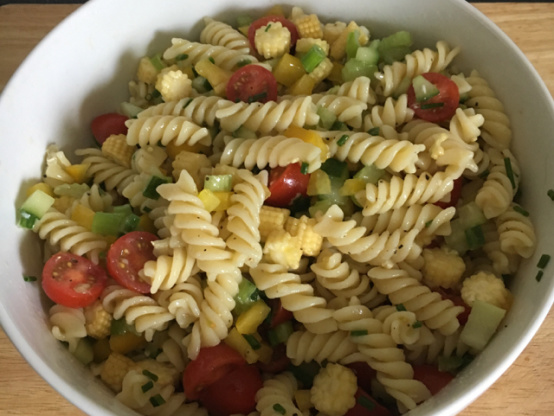 One of my favorite Naked Chef recipes. I make this often. I just love the trip of boiling up the garlic cloves with the pasta, and then just squeezing them out of their skins and adding them mashed to the dressing.

A great light and fresh tasting pasta salad. It's great to find one that doesn't contain mayo for a change. I did add an extra clove of fresh crushed garlic to the dressing as the boiled garlic didn't have much flavour left in it. I used chopped seeded tomato instead of the cherry tomatoes as it was all I had and added a little bit of chopped yellow capsicum too. I was serving a very fussy eater who loved it and came back for more the next day! A keeper recipe.
Bring a large pan of salted water to the boil.
Throw in the pasta and garlic and simmer for about 5 minutes or until al dente, and drain.
Put the garlic to one side for the dressing.
Put the pasta in a bowl.
Chop the tomatoes, olives, chives, basil and cucumber into pieces about half the size of the pasta and add to the bowl.
Squash the garlic cloves out of their skins and pound in a pestle and mortar.
Add the vinegar, oil and seasoning.
Drizzle this over the salad, adding a little more seasoning to taste.