Jambalaya Style Chicken and Shrimp
Ang11002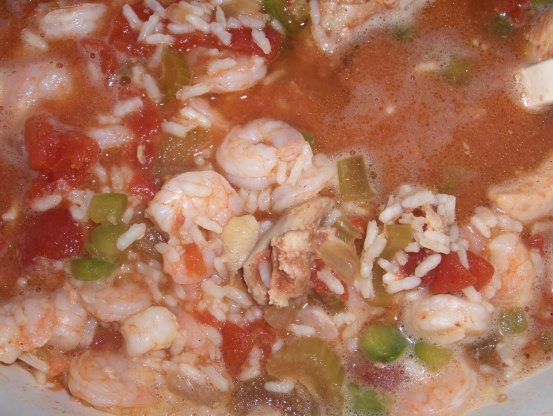 This is an easy slow-cooker jambalaya-like dish that my family and friends have enjoyed. I adjust the amount of cajun spice depending on who I am cooking for.

This is pretty darn good. I used chicken breasts though I think thighs would be good, too. I cooked everything in the crockpot, made my rice separately and then added it at the end with the (cooked) shrimp. Very tasty. I think a bay leaf would be a nice addition to the flavors so will add that next time. I used Tony Chachere's - maybe 2.5 teaspoons - it wasn't too hot. I think I will add tabasco to the individual servings on the plate... maybe. Thanks ratherbeswimmin'!
Add the first 7 ingredients to a 4-quart slow cooker; stir to combine.
Add in the chicken; stir.
Cover and cook on LOW for 5-6 hours.
Add in rice, shrimp, and green pepper.
Cover and let stand 10-15 minutes or until most of the liquid is absorbed and rice is tender.
Adjust seasoning to taste.