PaulaG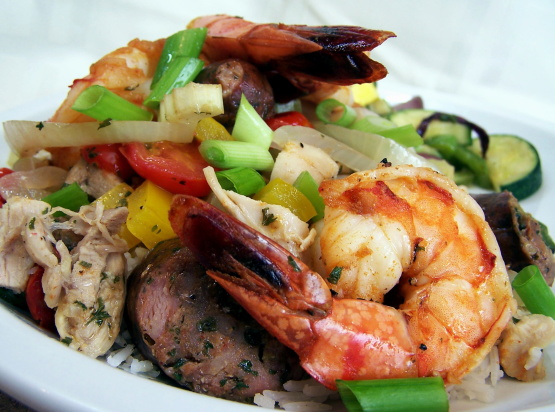 This is a great way to fix jambalaya when it is to hot to cook in the kitchen. The recipe is from Cuisine at Home.

We liked this recipe and thought it was easy to make (though the prep took a little while), and most importantly required little clean up. The ingredient list holds true to most other jambalaya recipes that I have made/seen. Admittedly, I used Tofurkey artisan style andouille and Beyond Meat's chicken-free strips, but I don't think this is what affected my star rating. Actually, it was nice to see both grilled up fine following your directions and were great substitutes in the dish. DH said that with the veggies being in the foil packets, the dish was missing out on that nice grilled smokey flavor you would otherwise get. He suggests not chopping the veggies ahead of time and cooking them separately and whole on the grill versus putting them in foil packets, then chopping them after grilling so that smokey flavor is imparted. I think I noticed the lack of broth/wine that is typical of non-grilled jambalaya recipes. All in all, we liked it.
1

cup long-grain white rice

8

ounces andouille sausages, cut into 1/2 inch thick slices

1

cup cooked chicken

1

medium onion, sliced

1

medium yellow bell pepper, diced

2

celery ribs, sliced
2⁄3 cup grape tomatoes, halved
2⁄3 cup okra, sliced into 3/4 inch rounds, thawed if frozen

3 -4

garlic cloves, minced

1

tablespoon olive oil

2

tablespoons fresh parsley, chopped
1⁄4 teaspoon cayenne pepper

12

jumbo shrimp, deveined, peeled with tails left on (1 pound approximate)

2

tablespoons brown sugar

1

tablespoon olive oil

2

teaspoons paprika
1⁄2 teaspoon Tabasco sauce

2

tablespoons butter, cubed
salt and pepper, to taste
chopped green onion (to garnish)
lemon wedge (to garnish)
Cook the rice according to package directions, keep warm.
In a large bowl, toss together the sausage, chicken, vegetables, garlic, 1 tablespoon of olive oil, cayenne and parsley; set aside.
Combine the shrimp with brown sugar, remaining olive oil, paprika, and Tabasco sauce.
Cut 4 pieces of heavy duty aluminum foil in 18x18 inch sheets. Place on a flat surface and divide the sausage mixture evenly among the packets.
Top each packet with 3 of the shrimp, a couple of cubes of butter and a few grinds of fresh pepper and salt.
Fold the top of each foil piece over jambalaya so edges meet, then crimp together and roll toward the center, fold the ends in the same manner, pressing to seal firmly.
Put the packets on a preheated grill and cook for 8 to 10 minutes or until puffed; remove from grill and let rest for 2 to 3 minutes.
Carefully open packets and spoon the jambalaya over the cooked rice; garnish with green onions and lemon wedges.