1fatchef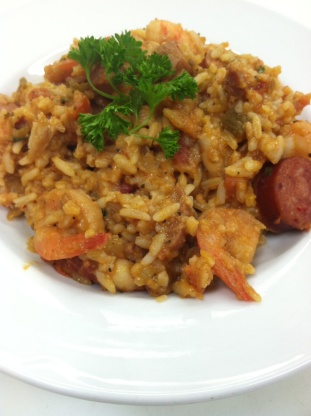 This is one of the Zaar recipes that I adopted. I hope to prepare this one soon and will post any modifications that I make to the recipe.
Heat butter in tight, fully covered saucepan.
Add onion and garlic, cook over low heat for 5 minutes.
Add tomatoes and juice and bring to a boil.
Sprinkle rice on top of tomatoes.
Add salt, pepper cayenne and soup mix.
Cook for 15 minutes.
Then add green pepper, celery, parsley and basil.
If necessary, add a little water or tomato juice and cook for another 5 minutes.
Transfer to a casserole dish and add shrimp, chicken and juices, sliced mushrooms.
Cover tightly.
Bake in preheated oven for 15 minutes 350°F till shrimp are cooked, but not overdone.