Jamaican Style Red Beans and Rice
yschoice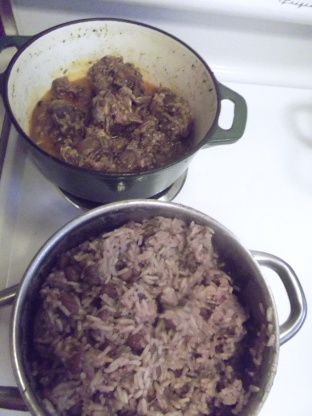 Here, kidney beans cooked with coconut milk, garlic, and rice make a nourishing meal that won't break your budget: this is a Jamaican classic that will please the entire family. Can substitute dry beans with canned that have bean drained and rinsed.
I'm pretty excited about how mine turned out. There's a spice missing but I don't know what it is... my Aunt's has some spice that looks like a tree branch in hers that makes this oh so magically delicious... I'm missing that spice taste. Maybe someone out there can tell me what it is... Otherwise NOT BAD... and this was my 1st try. Thanks Luvs 2 Cook. Grateful you posted this recipe.
Place beans, garlic, coconut milk and 2 cups water in a medium saucepan and bring to a boil. Reduce heat to low, cover, and simmer the beans until they are tender, about 2 hours.
Add 2 1/2 cups water, rice, scallions, thyme, 1 tablespoon of salt, and some freshly-ground black pepper. Bring mixture to a boil, stir, then reduce heat, cover, and cook without stirring about 20 minutes, until rice has absorbed all the liquid.
Allow mixture to stand for 15 minutes, still covered. Fluff rice and beans with a fork before serving and add additional salt and pepper, to taste, if desired.