Prep 4 hrs
Cook 1 hr 30 mins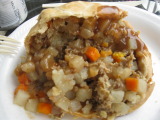 One of the local TV stations has a recipe contest, once a year. I made this up & entered it last year...I won 1st place for the week for Poultry. Our youngest Son LOVES it & I've gotten many other compliments on it...hope you enjoy it, too!!!
Directions
Combine all ingredients, except the chicken in a bowl (food processor works best).
Mix well, until smooth.
Place chicken pieces in zip-lock bag.
Pour sauce mixture over chicken & close the bag.
Lay flat on a plate or whatever you have.
Refridgerate for AT LEAST 4hours -- overnight is preferred, for best flavor.
Turn bag over, every couple hours if possible.
Preheat oven to 350°.
Lightly coat a 9 X 13 pan with cooking spray.
Place chicken in a single layer in the pan.
Pour remaining sauce over all.
Bake, uncovered, 1 to 1½ hours.
Reviews
Most Helpful
Yummy, Yummy! I grilled the chicken and basted with the marinade. Very good flavor and moist breasts. I didn't have a jalepeno on hand- so it didn't have any heat-- but we didn't mind. Really good taste--thank you!

I can see why this won a prize. I marinated it over night and the flavors really soaked into the chicken. I used skinless, bonless breasts and cut the recipe back to 2 servings. Baked at 350 for 45 minutes. The breast were lovely & moist.