teresas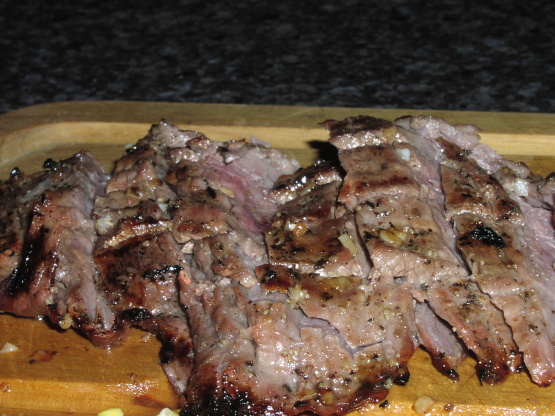 This is out of my cookbook called Low-Carb Magic...prep time includes marinating time..
I thought this steak turned out fantastic. I wound up marinating it for 2 days and it came out sort of sweet, but great!
Score both sides of beef by cutting 1/4 inch deep diagonal lines about 1 inch apart in surface of steak to form diamond shaped design -- do not cut all the way through the meat.
Combine sugar, juices, garlic, ginger, grated peels, slat , pepper, cinnamon and cloves in 2-quart glass dish.
Add beef; turn to coat.
Cover and refrigerate steak at least 2 hours.
Remove beef from marinade; discard marinade.
Grill beef over medium hot coals abut 6 minutes per side until medium-rare or to desired doneness.