JustJanS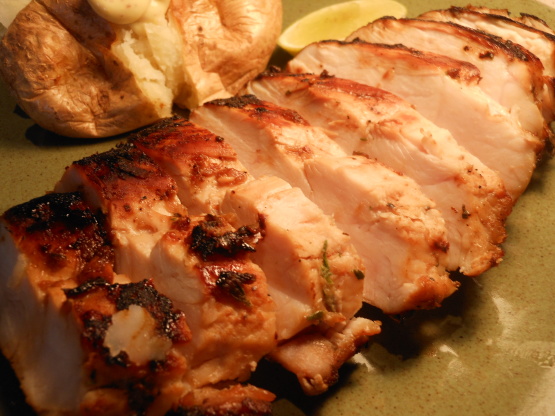 This comes from Great Garlic Recipes cookbook.

I marinated for 5 hours. Grilled over a medium charcoal fire. This chicken was nice and moist, and absorbed the salt from the soy sauce. I also caught a hint of garlic in the chicken. For some reason, the other seasonings didn't seem to soak into the chicken.....not sure why. Maybe it would work better marinating overnight. Five hours allowed the chicken to absorb the salt and garlic taste, but I was missing the rum, lime juice and ginger. No heat from the jalapenos. I served mine with additional diced jalapenos. As always, grilled chicken is delicious, so this was too. But I seemed to miss the taste from the marinade....I'll increase the marinating time next time. Thanks for sharing...made for Newest tag game.
Combine all ingredients in small bowl. Place chicken in food storage bag. Pour marinade over chicken. Refrigerate 4 hours or overnight, turning bag once or twice.
Spray grill with cooking spray. Grill chicken until no longer pink.