tamalita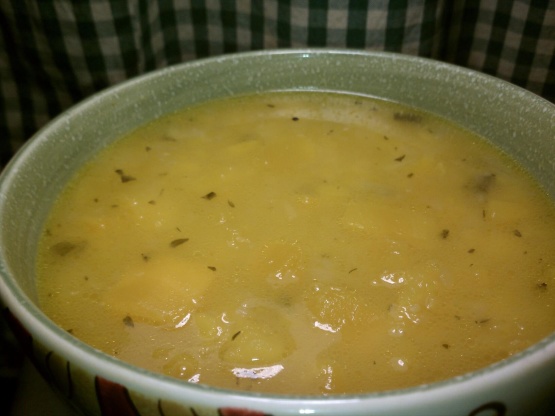 My wife and I went to the Grand Lido Braco resort in Jamaica and as soon as we arrived to the property, the first thing I wanted to do was to eat some Jamaican food. They brought out some Jamaican Pumpkin Soup and it was great. Then, it was onto the Jerk Chicken w/ Rice & Peas. But that's for another time...Here's the soup.
1⁄2 cup chopped onion
2 1⁄3 lbs pumpkin (peeled and cut into medium to large diced pieces)
2 1⁄4 quarts chicken stock (slightly over 1/2 gallon) or 2 1⁄4 quarts vegetable stock (slightly over 1/2 gallon)

3

sprigs scallions (cut thin)

2

garlic cloves, minced

1

bay leaf

2 -3

sprigs fresh thyme, chopped
salt and pepper (to taste)
1⁄4 lb butter
Sauté onions in butter in a large pot until transparent.
Add pumpkin and fill with stock.
Add the remaining ingredients and bring to boil
(Put Scotch Bonnet Pepper in Whole).
Simmer for about half an hour or to desired consistency.
Remove Scotch bonnet pepper and serve hot.