Prep 5 mins
Cook 2 hrs 30 mins

Peas in this recipe refers to beans. This island staple is also known as 'Jamaican coat of arms.' You can add chili to make it spicy if you prefer. No need to soak the kidney beans before cooking in this recipe
Directions
Bring beans, garlic, coconut milk, and 2 cups water to a boil in a medium saucepan.
Reduce heat to low. Cover, and cook until beans are tender but not mushy, 1 hour and 50 minutes to 2 hours.
Stir in 2 1/2 cups water, the rice, scallions, thyme, and 1 tablespoon salt; season with pepper.
Bring to a boil. Stir once, then reduce heat to low.
Cook, covered, without stirring, until all liquid has been absorbed, about 20 minutes.
Let stand, covered, 15 minutes.
Fluff mixture with a fork, and season with salt and pepper.
Reviews
Most Helpful
I really liked this dish! A great variation on red beans and rice, with the sweetness of coconut milk. I'm Southern so I did have to cook a side of andouille as a side. LOL

This was very tasty and fairly easy to make. The coconut milk gave it a nice subtle flavor. I did add a dash of cayenne for some heat, and seasoned it with some white pepper, as well. Thanks for sharing this simple treat.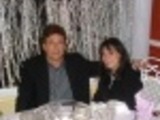 This is a great rice and peas dish. It is quick and easy to make. The rice is subtley flavored and has nice texture. I used a can of black eyed peas, as I was out of kidney beans. Thanks so much for sharing Deantini.